EMPLOYMENT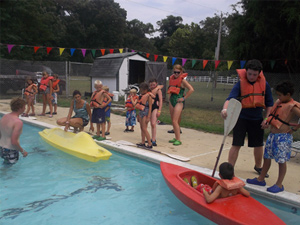 Working at Camp St. Charles is challenging and rewarding work. Staff members form lifelong friendships and incredible memories. All of us work together to create a safe and nurturing environment for the campers whom we serve.
All counselors and junior counselors must commit to living and working on site for the summer season. Our staff is generally a mix of international and local staff members. We have had counselors from many countries over the years. Often we have staff from France, England, Australia, and more!
To begin the application process, review the information sheet for the desired position. Incomplete applications will not be considered. Applications are accepted from January until all positions are filled. Early applications are encouraged!
In order to begin the application process, review the information for the position that you are seeking. Incomplete staff applications will not be considered. Please follow the instructions on the staff reference form. References should be mailed directly to camp by the person completing the reference form. Applicants are encouraged to provide an addressed and stampled envelope when requesting references. Each year, I receive references for applications who have not yet completed a staff application form or references that have been submitted by fax or email. Due the high volume of documents coming to the office, it is very helpful when applicants mail their application, questionnaire, and signed policies in one mailing and then have 3 references mailed directly to camp. If you are unsure about the process, reread the information sheet regarding the position that you are seeking at camp.
Contact Laura Hall for details director@campstcharles.org or 301-934-8799
As of 2/14/18--Most summer 2018 positions have been filled. Interested candidates are welcome to complete an application and will be contacted if a position becomes available.
Counselor Application Information
Junior Counselor Application Information
A junior counselor interview day will be held on Saturday, March 10th at Camp St. Charles. JC applicants are encouraged to submit all application requirements prior to February 16th in order to be considered for an interview opportunity on Saturday, March 10th. Application received after February 16th will be considered if open positions remain available.
Kitchen Staff Application Information
International Staff Application Information
CSC Staff Packing List revised 2016
If a camp position is offered, successful applicants will receive an invitation to complete onboarding paperwork, including background checks, health forms, etc online. All employment offers are conditional, based on successful and timely completion of all required paperwork and background screenings.