Bunk Bed Fundraiser

If you have ever joined us for summer camp or for a retreat, you may have noticed that our bunk beds need an upgrade. We are encouraging our CSC fans to give a gift of $65, celebrating our 65 years of Camp St. Charles summer camping. We are having a competition between our cabins to see which will be the first to get new bunks!

Cabin 2 has new bunk beds! We are raising funds for Phase 2 of the project now. We can't wait to see which cabin will be the next to earn new bunkbeds.

As a special, giving Tuesday event, donors who give $100 or more to the Cabin Competition fund raiser will also get the latest camp tee shirt! Our tee shirt sale has ended so this is a special opportunity to get this limited edition MD with MD flag design shirt in your cabin color!

Order Fr. Glen's CD

Fr. Glen Willis, SDS has recorded two CDs to benefit Camp St. Charles. Order here, all proceeds will benefit the Camp St. Charles Endowment.

Enter the Cabin Competition on CrowdRise to help us with new bunks!
Amazon Wish List

Here is a list of items that we'd love to receive for our summer camp program. Your order will be shipped directly to Camp St. Charles. We have added notes to the items so that you know how your gift will help us. We have really been blessed by this program but it is difficult to determine who sent us the gift. We really want to be able to thank you for your generousity to camp. We'd love it if you could let us know if you are sending a gift to CSC. Thank you!
Thank you for supporting our Ceramics Program!
In Spring of 2016, we asked for your help with raising funds for a new kiln and supplies for our ceramics program. You did it! We exceeded our fundraising goal and we brought ceramics back to Camp St. Charles. Each camper has the opportunity to create a lasting, tangible reminder of their Camp St. Charles adventure. Additionally, we were able to purchase a Gaga ball pit. This was another new activity for us and it was a HUGE hit. Summer campers and retreat guests enjoy this fast paced version of dodgeball.
DONATIONS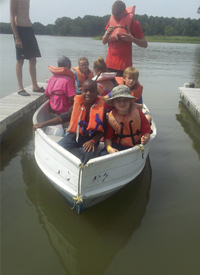 Thank you for your support of Camp St. Charles. Your gifts are used to purchase and maintain equipment, to sponsor campers, to fund training for our staff, and to continue our ministry. The recent poor economy has made it more difficult for families to provide their children with the enriching, wonderful experience of attending Camp St. Charles. Your gifts help us to invite more campers who would not otherwise have this powerful opportunity.
The summer camp and retreat programs at Camp St. Charles are self-supporting. Our program is funded by camp tuition, retreat rentals and donations.
Our donors provided camperships (full or partial) to 90 campers in 2015, 92 campers in 2016 and 86 in 2017. Thank you for your generosity. Every donation is used at Camp St. Charles to benefit our campers and retreat guests.
We have been blessed to receive a generous grant from the Family Foundation. The Family Foundation matched gifts up to $25,000. We met the match for 2014 and 2015! Thank you to all of our generous donors who helped us to maximize the grants!
Our campers love the nature area at camp. Brother Roger established a huge collection of critters for campers to feed, cuddle and care for at Camp St. Charles. Pam Riffle continues that tradition of inviting campers to care for and learn about Creation through visiting the horses and other camp animals. The riding program is one of the most beloved and expensive camp programs. We are inviting you to sponsor a horse. your gift of $200, one of our camp horses will be fed, housed and receive veternary care for one month. Each sponsor will receive a limited edition print of a drawing of their sponsored horse. Each print is signed by the author, Tracey Stinnet. Please consider sponsoring a horse. Our very first riding partner was one of summer campers who used his own saving to support his favorite camp horse. Thank you, Quint! We are so grateful to all of our supports. You make our ministry possible.
Summer Riding Sponsorship Information
If you have a passion for Camp St. Charles and would like to get more involved, contact Laura Hall at director@campstcharles.org or 301-934-8799 to learn about "Friends of Camp St. Charles."
Camp St. Charles is a 501(c)3 non profit.